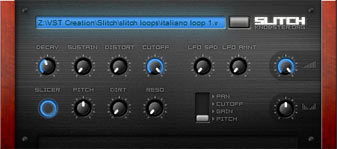 Slitch
Slitch — is a tool for manipulation of the audio files. Any recording it can turn into a set of percussions, glitches, or even scratches.
Plugin based on the principle of separation of the audio file into equal chunks, which have consistently mapped to keys for MIDI-keyboard. Adjusting parameters of Decay and Sustain You can get chunks of varying lengths. In addition, you can adjust the pitch, add some distortion and process sound by LP filter.
Interesting effects can be achieved using the built-in LFO, which can modulate all of the basic parameters. MIDI-automation is available.
Check out for free samplepack KNOBSTER Lo-Fi Cinematic Grooves.
Download from Download (zip, 0.9 Mb) | post a comment
I want to thank those who supported me during the work. Those who wrote the great demo tracks, and those who simply expressed an interest. A special thanks also extend to: AwerS, Vypolzlo, Roy Garrou, WERX, Garynych